Lookbook #1
The Grand Seiko SBGA413G
Launching our very first lookbook with this divine watch from one of Japan's most revered watch makers
Introduction
The Grand Seiko Shunbun SBGA413G is an exquisite timepiece that exudes timeless elegance and precise Japanese craftsmanship. Its seamless fusion of Japanese artistry and horological excellence has made it a true collector's gem and honestly when I held this in my hand I was truly in awe of that dial – the way it changes colour in different light is nothing short of amazing
To take your Grand Seiko Shunbun experience to the next level, we are delighted to present a unique look book that showcases a range of new straps designed to complement this remarkable watch. We were lucky enough to be loaned this watch from Grand Seiko boutique London to do this look book so a huge thanks to Rob for thinking of me
A work of art
Before we delve into the world of straps, let's take a moment to appreciate the masterpiece that is the Grand Seiko Shunbun SBGA413G. As part of the Heritage Collection, this timepiece is inspired by the beauty of spring in Japan. The watch's design pays homage to the delicate cherry blossoms that bloom during this season, capturing their transient beauty in every detail. The stainless steel case, measuring 39mm in diameter, is beautifully polished and brushed, reminiscent of the petals of cherry blossoms. The dial, with its subtle shades of pink and white, evokes the soft hues of springtime, while the Zaratsu-polished hands and markers ensure unparalleled legibility.
Now, let's see how different straps can transform the Shunbun into a versatile and personalised timepiece with some 21mm straps that I personally think truly elevate this timepiece…let the photos do the talking!
Exotic
Claret Embossed Crocodile
Horse Hide
Marbled Cordovan
Calfskin
Grey Badalassi Wax
Calfskin
Chestnut Wickett & Craig
Goatskin
Deep Blue Kid Goatksin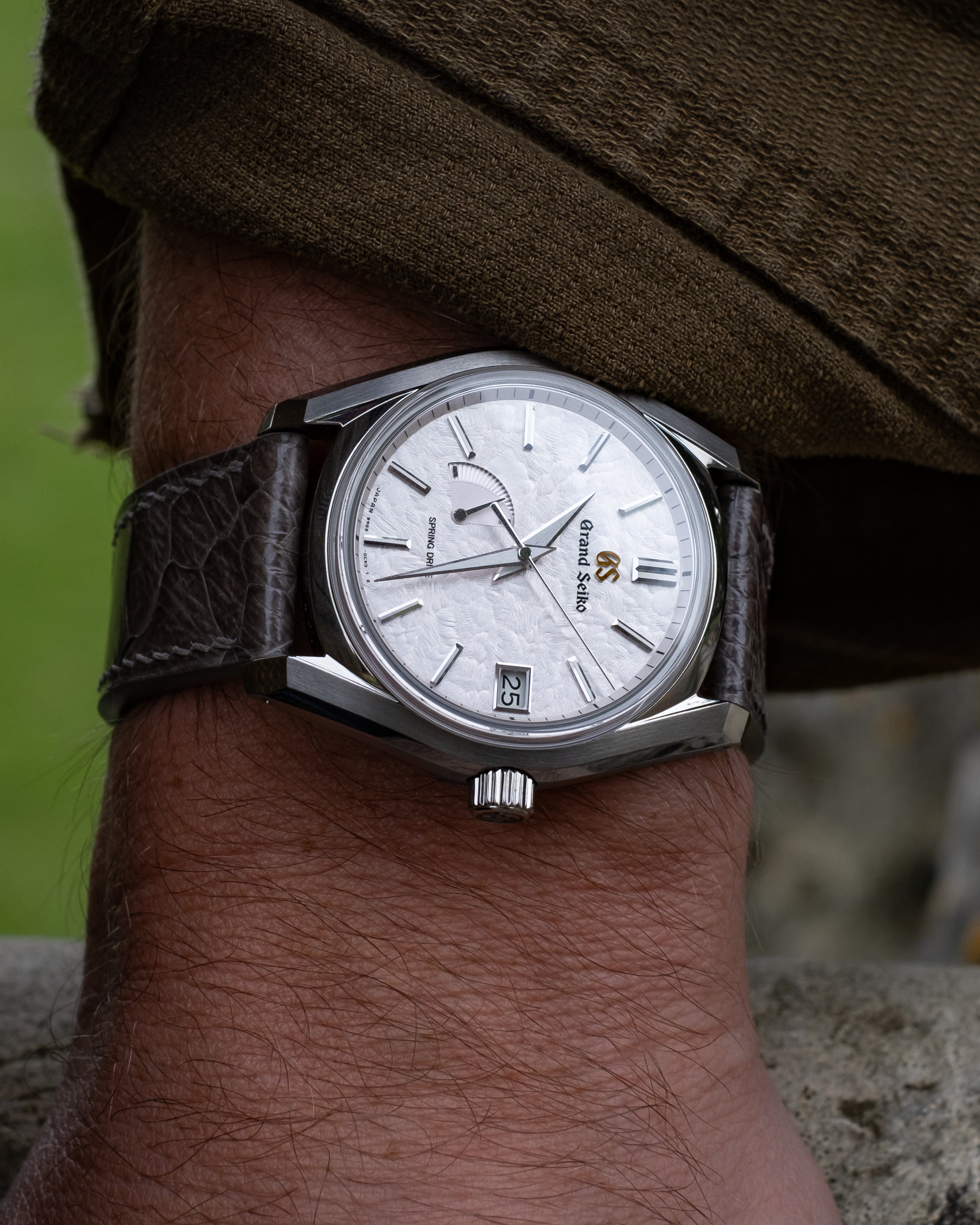 Ostrich
Graphite Grey Ostrich Shin
Calfskin
Burgundy Virginia Chrome Tanned
Goatskin
Navy Blue Alran Goatskin
What do you think?
It's safe to say that I had a great time with this Grand Seiko. It is so versatile and I am sure the pics and strap choices help demonstrate that. Whether you are looking to dress the watch up or make it more casual for jeans and a tshirt there is a strap choice to suit. The beauty of handmade and bespoke options is that you can really do whatever you like!
More to come. I hope you enjoyed the first of many look books